News 2008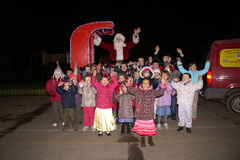 Monday 15th December
Members of New Milton Round Table were able to take Santa to see the children at New MIlton infants school and he even joined in singing some carols with them.

Sunday 14th December
Santa had some help with his singing at the Firewors Spectacular.
The Southampton Philharmonic Choir came down to help out.
We had a good turn out for the event, which had a childrens quiet fireworks display, a bonfire to keep everyone warm and finished with a fantastic fireworks display.
Daily Echo 26 December 2008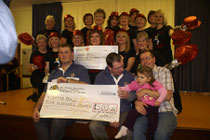 New Milton Round Table's future hangs in balance...
7:10pm Tuesday 25th November 2008
AN organisation which has raised thousands of pounds for charity while giving great pleasure to residents will fold unless it gets an immediate influx of new members.
New Milton Round Table was founded in 1937 for people aged 18-45 to organise events for the benefit of the community and raise money for charity.
Spokesman, Chris Hobby, said: "I'm an honorary member because I'm over 45, and there are only five members left, but we can't run events with so few.
"If we don't get any members by January 31, New Milton Round Table will close."
Mr Hobby joined in 1996 when there were 22 members. The numbers have steadily declined to the current level.
Mr Hobby fears the public has too little free time to devote to causes like the Round Table, with people working longer hours than ever before and many working away from home.
"There's no funny handshakes or anything like that," he added.
"We're just a group of normal people raising money for charity and having a good time doing it."
If new members are not forthcoming, New Milton Round Table will go out in a blaze of glory.
Its annual fireworks display will take place on Sunday, December 14.
The event should have gone ahead on November 1, but was called off because of torrential rain.
And with the Lions' Club Christmas Carnival off the road this year, the Round Table has taken the opportunity to introduce Santa to the local children at the same event.
The rescheduled event will take place at Fawcett's Field. The gates open at 5pm so that children can pop into the grotto and visit Santa before a 10-minute display, minus the percussive fireworks, for younger children starting at 6pm.
The bonfire will be lit at 6.15pm and the "all singing all dancing" fireworks display starting at 7pm will ensure the Round Tablers will go out with a real bang.
The group meets on two Tuesdays a month.
Prospective members should contact Mr Hobby on 01425 612043 evenings or 01425 612044 during office hours.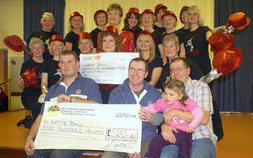 22 November 2008
"Glad we could help"
Body splint has transformed 'a little rag doll'
7:00pm Friday 24th October 2008
By Bob Jolliffe » Bournemouth Echo
A LITTLE girl with severe developmental problems was just like a "rag doll" until she started wearing a special neurological body splint.
Now, slowly but surely, three-year-old Katie Ball is improving.
Her mother, district nurse Tracy Ball, said: "They haven't found out what's wrong with her at the moment.
"It's just called 'developmental delay'."
Her physical development is the equivalent of that of an eight-month-old baby and her cognitive development is between 12 months and two years.
In addition, Katie does not recognise pain.
If she falls over and bumps her head, a bruise will appear, but she carries on as if nothing has happened.
Tracy, her husband Martyn and five-year-old daughter Jazmin, do not know how long it will be before Katie catches up.
"We don't know if she's going to walk, talk or do anything at the moment," said Tracy, who is currently living with relations in New Milton between house moves in Bransgore.
She works part-time and Martyn works with autistic children, and that means they need help to pay for the body splints, which are made in Australia.
"The last one cost £2,100.
"It's her second.
"It's made to measure; that's why it's so expensive," said Tracy.
Katie wears it between four to six hours a day, six days a week.
But it has been worth the effort.
"She's had it for a year now and it's definitely made an improvement.
"She couldn't sit up very well and she would roll over like a rag doll," said Tracy.
"She can now sit up without it for about a minute.
"At her birthday party she was able to sit on the floor with her friends having her birthday tea."
So far she and Martyn have been helped with the cost by the TLC charity and Burton Care Group.
Now Lynn Kingsbeer's Hot Toe Tappers dance group is staging a Showtime Extravaganza in Milford-on-Sea Church Hall at 2.30pm on Saturday, November 22.
Tickets, £5 including refreshments, are available at the door, in advance from organiser Maureen Burton on 01425 616732 or from Gwen's, Milford High Street.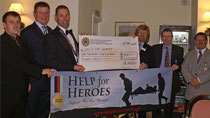 At the past Tablers dinner held at The Cliff House Hotel in Barton we received an insight into what the "Help For Hero's" charity is about and why it is needed. Geoff gave an excellent presentation which included a couple of videos showing some of the injured servicemen who will benefit from the charity.
We were pleased to be able to support the charity with a cheque for £1500.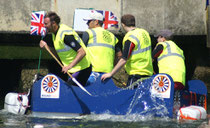 27th July 2008
We entered the Mudeford Lifeboat Funday Raft Race again this year as we had so much fun last year.
We even managed to get about £500 sponsorship towards the Lifeboat station.
Although we did not win, it was great fun.
We might even do it again next yext year.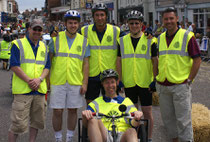 13th July 2008
We entered into the spirit of the day when we took part (and finished) in the Ringwood Pedal Car Grand Prix.
We completed a respectable 51 laps and came 20th out of 36 cars entered.
Well done to Neil, Graham, Rob & Mark for pedaling.
Not forgetting the support team Ian, Simon & Andrew.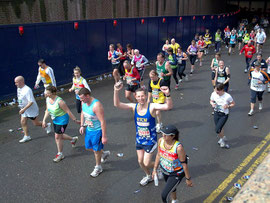 13th April 2008
Neil Jones took part in the London Marathon this year to raise funds for Round Tables Childres Wish. Well done Neil.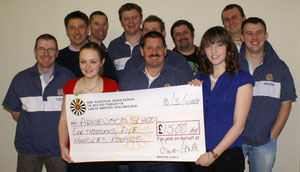 18th March 2008
Anual games night at Hoburne, Bashey.
We were also able to donate a few £££'s towards Arnewood School students going to Russia later in the year.

23rd February 2008
Ladies night was a great success.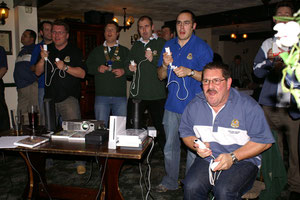 7th February 2008
Area meeting in Petersfield.
Somebody thought it would be a great idea to Wii.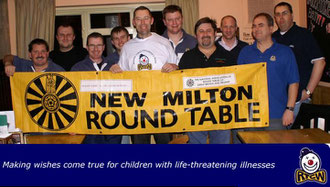 22nd January 2008
We had our meeting at the House Martin public house in New Milton where we were able to get a photo of the members supporting Neil in his quest to raise awareness of his participation in the London marathon.

January 2008
saw the 9th anual "Conception" gamers week at Hoburne Naish.
This non profit event raised several thousand pounds which went to local charities.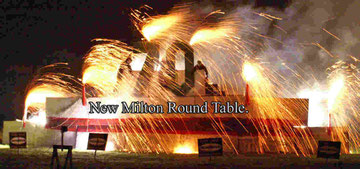 27th October 2007.
Annual fireworks display @ Fawcets field, New Milton. This year it was in the shape of a birthday cake as we celebrated New Milton Round Tables 70th year.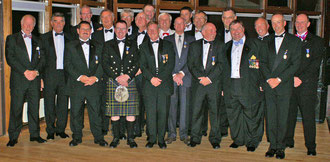 13th October 2007.
New Milton Round Table 133 celebrated our 70th aniversary. We had a great night and lots of old Tablers attended with their wives/partners.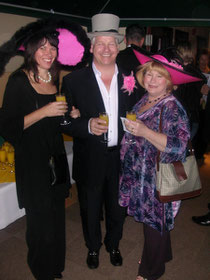 6th October 2007.
We held an "alternative Ascot" night to help raise Table funds.
Everyone got into the spirit of the occassion and dressed up with frocks & hats etc.