News 2010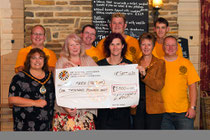 We were pleased to be able to support The Park community radio statio station to the tune of £1000. This is to help with studio equiptment etc in readiness for their launch on FM.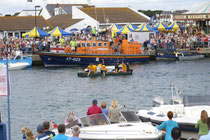 We won the Mudeford lifeboat funday raft race. A great day had by all. 
Bed push went well and we raised over £1000 for our charity account
Bed push Lymington Quay to The House Martin in New Milton Proposed route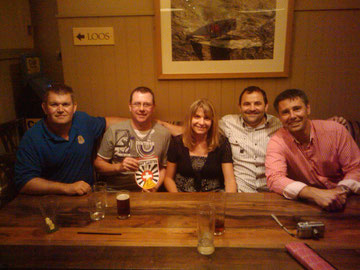 In the photo from left to right
Kevin, Ian, Kristina, Stephen, Andrew.
Kristina & Stephen were visiting from Langnau Switzerland and since Stephen is a member of the RT 33 Langnau he looked us up for a drink (and to promote Euromeeting)
Community Spirit
New Milton Round Table recently helped to build a new secure out-door play area for the Acorn Pre-School in Everton.
The venue used by Acorn Pre-School, the Everton Sports Pavilion, did not have a suitable or big enough area to allow the children to play safely outside. Once Jackie May, owner of Acorn Pre-School had gained support for the project from the Pavilion Committee, New Milton Round Table volunteered to help.
The building work was carried out by Mark Ockham of Ground FX, with plant equipment from New Forest Hire. Mark was ably assisted by Tablers and parents from the Pre-School.
A fenced patio area of over 35 square metres can now be used by the children whenever the weather allows. Jackie May from Acorn Pre-School said "I would like to thank Mark from Ground FX, and New Forest Hire for helping us create this fabulous outdoor play area for the children. I would also like to thank New Milton Round Table and parents for their generous support."
If you are interested in Acorn Pre-School, then please contact Jackie May on 01590 644648.
New Milton Round Table are seeking new members. For further information, please drop us an Email on our contact page.