News 2011
The New Milton Pedal Car Grand Prix
Once again we put on the shorts showed our legs out to the world and atempted to show New Milton what we are made of, but this year we did it with a diferance we had the help of the CBBC. 
presenters Lain and Ed from the childrens program All Over The Pace asked to take part in the race and to have it filmed for the program. We were more than happy to help.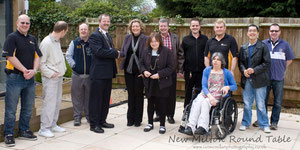 Round Table donated money to this group of adults from New Milton to supply vital equiptment they needed to be able to learn and maintain vital independant life skills, from social skills to day to day living, with the money given to the group of 26 individuals in new milton they have brought IT equiptment and specialist software to set up an outstanding Day serves.